Every family can benefit from family fun night ideas. Sometimes we get in a rut and do the same old unfun routines of dinner, dishes, laundry, cleaning, homework, sports or musical practices, etc. and we forget about making special memories!!
Family night can be done weekly, bi-weekly, or monthly. It also can be tied to some type of reward such as homework completion, great school reports, chore completion, etc. Do whatever works for you!




I have other posts with incentive ideas and reward systems if you decide to use family fun night as an incentive/reward. These are two posts on incentives and reward systems:
Let's face it, there's a lot to do with schoolwork, dinner, dinner clean-up, laundry, etc. there's not much time left, but you can be in charge of the activity (a short or longer one), etc.
Or you can narrow it down to 2 or 3 activities and have the child who had the best week (based on school success, an improvement in an academic or behavior issue, chores, amount of time reading, etc. etc.).
Again, it's up to you!!!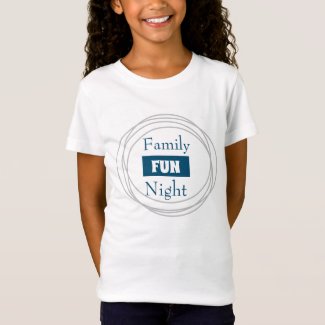 (they also come in sizes for mom and dad also)
FAMILY FUN NIGHT T-SHIRT
by
HappyHomeLife
You can also have the kids come up with their own fun family night ideas – keep some of their ideas and toss the other ones!
Below are some examples of different types of activities. And yes, there is usually some learning/educational benefit in these activities, but kids don't need to know that!
Puzzles
With a puzzle like this, you can see who has the answer first or all complete it at the same time to see how many you get correct. Also, you can have your child read it one by one and you all guess together!
You can email me and I'll send you the document so that you can rearrange, duplicate, delete, copy, add different tasks, etc. at mrs.dehm@gmail.com.
You can go above and beyond with the puzzle I provided and read these nursery rhymes and make up your own puzzles:
Other Puzzles
There are tons of different types of puzzles. These can be a ton of fun for you and your family. Even if you complete one page of a puzzle or take 30 minutes for a jigsaw puzzle, it's fun for the family!

Games
There are many types of games – the game below is just an easy game to do at home or on the go!
ABCs of just about anything – (fruits and vegetables, names, cereal brands, types of ice cream, states, etc.).  You can have your child do this independently but if you have more than one child, you can do it as a competition. This game helps with concentration, focus, memory, problem-solving, writing skills, etc.
Some Examples of ABCs of Just About Anything
Fruits and Vegetables
Apple
Banana
Carrot
Dates
Eggplant
etc.
Names
Ann
Barb
Carl
Don
etc.
Board Games
You probably have some of these board games, if not, check out my associate links below (you don't pay an extra penny):
Cards
There are tons of card games with just a regular deck of cards. Or check out the links below:
Crafts
You may have craft items at home, such as tongue depressors, cardboard, pipe cleaners, etc. or you can purchase supplies and kits for specific crafts:


Activities
You can add to the creativity of the activity, make reading or math lessons out of them, etc.
You could talk about fractions while making a recipe, reading directions for the activities, read the words you use to create your collage, etc. etc.
A dance party.
An Inside Camp out (and a fireplace adds to the fun).
Movie Night at home. 
Paint Rocking.
Make a magazine collage.
Make Slime.
Reading Night. Add a tent and some special glasses, flashlights, etc. for more fun:
And Check Out These Great Posts:
I hope that these family fun night ideas have helped to get you started with your own family fun night!
I'd love to hear from you so let me know if there's something I can help you with. Please leave a comment or question below or email me at mrs.dehm@gmail.com.